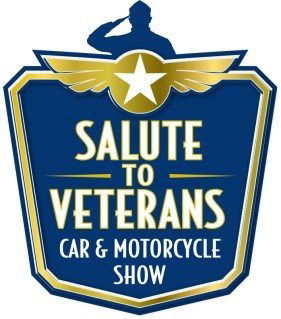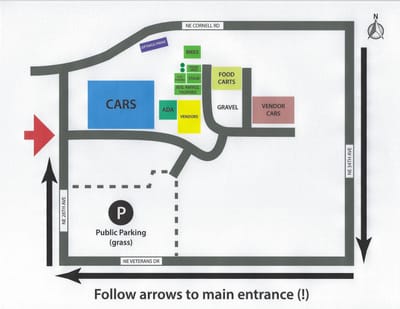 Updates will be posted for 2020 show as we get them, Thanks Bear"New Update:" YES, the 9th Annual Salute to Veterans Car & Motorcycle Show is still on! We have almost 5 months to go (August 15th), so we are planning to have our yearly fundraiser. As always, this fundraiser is so important to assist our local veterans and their families in need. And the need is even greater today! Many more veterans are vulnerable now, and need the help that we provide each year. And you are an important part of that help.

Please join us again to help make this year's event a great success to help those who served their country for all of us.
Please join us again to help make this year's event a great success to help those who served their country for all of us.
Let me know if you have any questions and/or suggestions.
If anyone out there is in need of something to do during this 'down time', I can use some help in the planning! There are several easy busy-work kinds of things. Also we will need a few more volunteers at the event itself.

Thanks Lynn & Bear

Good Morning!,

Another wonderful Salute to Veterans Car & Motorcycle Show was held on August 10th. Even with the threat of rain (which didn't materialize) the event was very successful. We had almost 400 vehicles including a huge assortment of beautiful cars, motorcycles, military vehicles and city/county vehicles. Three amazing helicopters landed to the delight of the attendees…a Huey, a Loach and a Black Hawk! There was Optimus Prime and his partner the 'Veteran' Truck. Star Wars & Super Heroes roamed around, and Miss Oregon greeted attendees and helped with trophy presentations. The Tribute to Veterans Ceremony was a highlight of the event, our silent auction/raffle were a huge success, and the Corral Creek Blue Grass and Got Your Six Rock & Roll Bands were terrific!

Thank you to all of our wonderful sponsors, our volunteers, our vendors and our participants who made it all possible. Because of your generosity, you time and your donations we were able to raise almost $30,000 this year. (this brings the total raised in these eight Show fundraisers to just under a quarter million dollars…all for the veterans, as we are able to get so many budget items donated. We will be using our proceeds this year to purchase a passenger van for the newly opened Veterans Village, a transitional tiny house village for 15 veterans in Clackamas. There is no mass transit nearby so this will allow residents to get to services and resources.

Please keep spreading the word to help with more awareness so we can continue to grow. Also let me know what suggestions you have to make it even better in 2020. It will be held on August 15, 2020…same place…same time, so mark your calendars!

We would like to add photos to our website so if you took some, would you please send them to me??

Take Care,
Lynn Kirwan

Donation from 2019 show to Oregon Paralyzed Veterans of America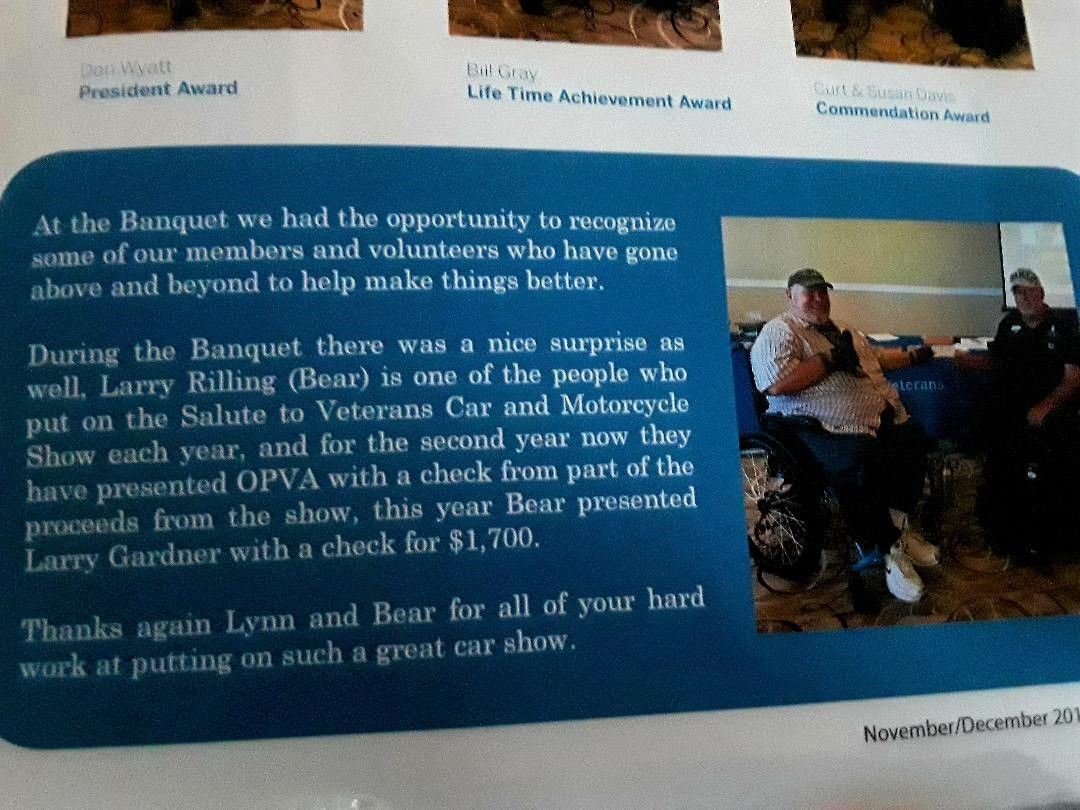 At the 2019 O.P.V.A. Banquet I was able to present a check to the Oregon Chapter as one of the many Veteran groups we try to support. Bear ( Which I'am proud to be a member )


With the help of those who donated to the Veterans Car Show, we were able to purchase this 2013 van for the new Veterans Village in Clackamas. The Village houses 15 homeless veterans at all times. Since it is in a light industrial area there is no public transportation nearby. There have been many successes since the opening of the facility. Several have transitioned out to permanent housing, and a couple have gone back to school and a couple have also found employment.
The Do Good Multnomah group runs the facility and reports that they have put several thousand miles on the van already! Thanks to all who donated to help our homeless veterans in need. Stay tuned for the 2020 Salute to Veterans Car & Motorcycle Show to see what miracle we can achieve together!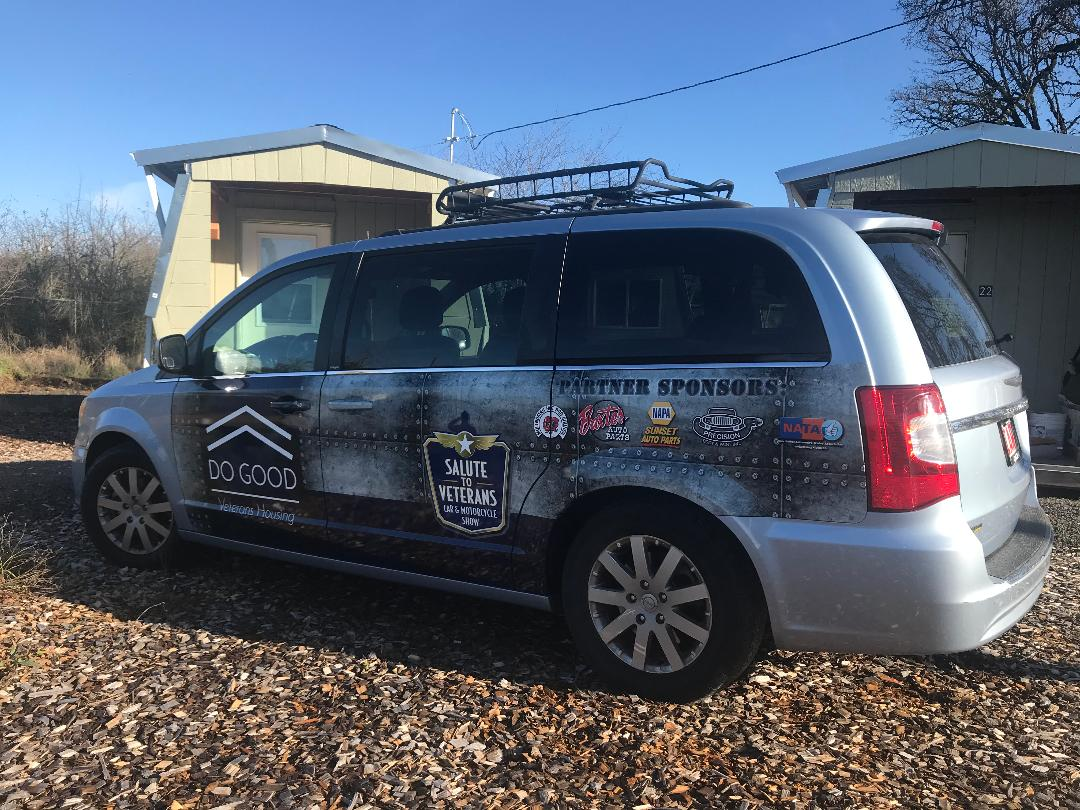 Our car show was able to raise the money for this van for: Do Good Multnomah
Been helping people move into their new homes with the help of your organization!!! This is a Veteran who was living in a park until he came to Do Good. He isn't now holding the keys to his brand new apartment in downtown Portland. Thank you Lynn! " Dale Moody"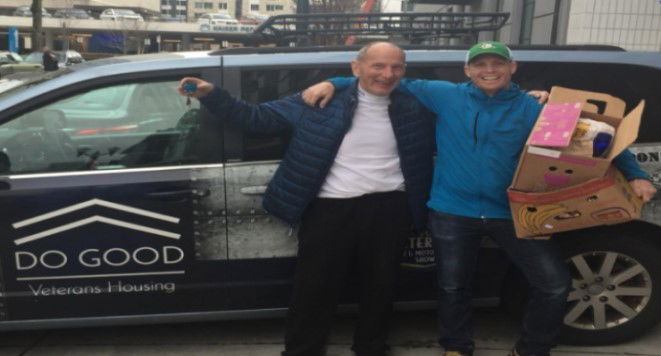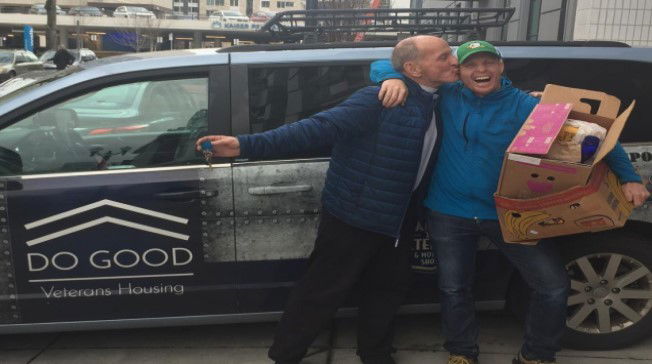 Dale Moody
Do Good Multnomah
DMoody@DoGoodMultnomah.org
(503) 358-0519
Dogoodmultnomah.org